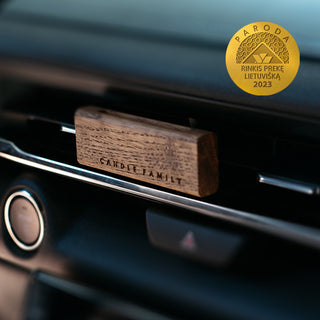 Aukso medalis
Prodoje ""Rinkis prekę lietuvišką 2023" CF gaminys, lietuviško ąžuolo laikiklis automobiliniam kvapui, pelnė aukso medalį. Džiaugiamės šiuo įvertinimu ir kviečiame išbandyti šį rankų darbo gaminį kartu su CF kvapais automobiliui.
CF NAUJIENOS
Naujai atrastos technologijos CF žvakės, savo struktūra primenančios betoną. Šias žvakes jau spėjo pamilti mūsų produktų gerbėjai. Žvakės pagamintos iš natūralaus vaško, ilgai degančios ir kuriančios industrinio stiliaus aplinką.
Who are we?
CF Candle Family - a Lithuanian brand and family business, which produces handmade gifts, candles, home and car scents with wonderful aromas. In 2017, the CF Candle Family project was born in Klaipėda, near a small wax heating pot. First the vision in our mind, then hundreds of hours of painstaking work. The joys and disappointments of discovery have accompanied us on this journey and continue to drive us forward. We are happy that CF has become our family, and the creations created here bring joy to you not only in Lithuania, but all over the world. Thanks for being with us...